Image Credit:  LegalWeek
What is LegalWeek 2018?
LegalWeek 2018, one of the most prominent events for the legal industry took place in NYC from January 30th to February 1st. This conference provides a great platform for legal, technology & LegalTech industry professionals to network with a wide range of leaders varying from the most reputable organizations to innovative start-ups (entrepreneurial ventures).
The conference provides an excellent opportunity to stay current with emerging trends and technology in the legal industry. There was a buzz around AI, e-discovery, and analytics that can help legal professionals in the face of the digital revolution.
"Legalweek has become the premier legal event, offering five conferences, and an extensive exhibit hall, covering a wide variety of critical issues facing the entire legal industry as we move into 2018," said John Stuttard, Senior Vice President of Global Events at ALM Media. LegalWeek actually includes five conferences, including LegalTech, LegalCIO, LegalMarketing, the Business of Law Forum & the Legal Diversity & Talent Management Forum.
Sameer Somal represented Blue Ocean Global Technology during a roundtable session on 'Proactive Online Reputation Management(ORM) for Attorneys & Law firms' at LegalMarketing on February 1. In his remarks, he stated, "Internet Defamation lawsuits are on the rise. The general public, including experts and bloggers, can express inaccurate opinions. Their views can then be shared and amplified across various social media platforms.
When promoted effectively online, digital marketing helps businesses accelerate their growth. Conversely, negative information circulating on the internet can harm businesses and ruin personal lives. Law firms lose contracts, lawyers lose jobs, and most importantly – their reputation. A law firm's success is now more dependent than ever before with what is said (and not said) on the internet."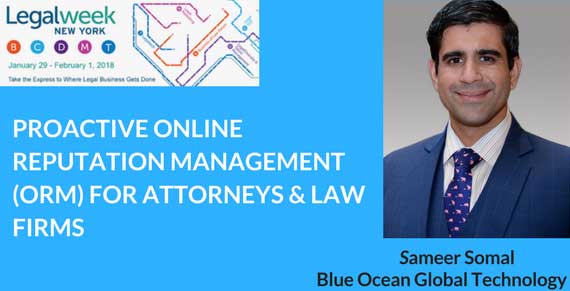 In a podcast interview with Arin Kaplan, Legaltech keynote speaker Josh Becker, CEO of Lex Machina said,
"Legaltech 2018 offered diverse content. It was less e-discovery-heavy and more focused on the business and practice of law, which are areas I think are really fascinating. We also saw a separation of the reality from the hype, particularly with respect to AI. Ultimately, new technology has to help lawyers do their jobs better and faster, as well as make them more productive. Otherwise, it doesn't matter."
The legal industry is at a key inflection point. Leading conferences such as LegalWeek provide unique opportunities to address technology challenges and build new connections. Our team is looking forward to sharing perspective in support of ALM's commitment to education excellence at LegalWeek 2019.