Content Removal Phase
The reason why we always start with content removals first is because you never know how successful (or unsuccessful) you are going to be. The more success you have, the less work needs to be done in the suppression phase. Having said that, content removals may be unsuccessful at the onset but more achievable later in the process after several attempts and continued suppression.
With respect to the different removal strategies, we reached out to all 13 news outlets and prepared ourselves for tough conversations and inevitable negotiation. We appealed to everyone's common sense, arguing that the fraudsters responsible for the mischief were no longer with the company through presentation of required proofs. We focused on a respectful and tactful approach to explaining our client's plight. At the same time we knew that persistence and patience are key. We didn't receive an answer or even any sympathy from most news outlets in round 1, so we reached out a second time and eventually a third. Please note this is done through a combination of phone, email, website submission, US mail letters and social media direct messaging to decision makers. I can't stress enough how important it is to show humility and kindness at this point.
What was the outcome? Two publishers agreed to take down their news reports right away and even replied with acknowledgement confirmations to our second written request. One of these two was actually responsible for two of the target negative articles published, which meant 3 of the 17 links were gone! After speaking with the managing editor of another publication via introduction from one of our PR partners, another website agreed to remove all firm name mentions but keep the article. This accomplished our objective in that it no longer appeared after being reindexed by Google. This left us with 13.
Unfortunately, the rest of the back and forth between us and the remaining news sites was not crowned with success – at least not until we made legal requests (more in a second). But first we tried to have some of the pages entirely de-indexed from Google so that they would only be accessible if you enter the URL directly in your browser.
For a potential deindexation, content has to violate either applicable laws – think defamation – or Google's own Terms of Service. When a potential policy violation is identified, Google will review the content before restricting access or simply removing it from their index. After researching and making our case for an image copyright violation, another link was neutralized from the Fortitude Wealth search engine results pages (SERPs).
For the remaining 12 pages, we also tried removal at hosting company level. Even after hours of reconciling technical requirements, we could not find any qualified compliance violations that may have justified action against the publisher. The sites in question were of high quality and up to date as per agreed upon hosting guidelines.
No reason to despair. We still had an ace up our sleeve: Attorney-assisted removals. In our first expert.com case study Why Efficient Online Reputation Repair Involves More Than Content Suppression. I've mentioned that "Websites and hosting companies have no legal obligation to remove content unless a court determines that the content harms the interested party and is false and defamatory, as outlined in Section 230 of the U.S. Communications Decency Act (CDA) of 1996".
False and defamatory content that harms the interested party was exactly what we were dealing with, even websites with the most stubborn no-removal policies may shy away from the mere prospect of spending significant time and money in court. This is why even in cases where chances for success are slim, we may recommend making a legal request for content removals or at least notifying the interested party of our intent to do so. This strategy often works when you are credible, tactful and persistent follow-up.
Our results: 2 sites agreeing to remove the Fortitude Wealth content, we refocused on the 10 remaining articles.
Content Suppression Phase
With 10 pages left that we needed to outrank we went into the Content Suppression Phase. We identified 22 keywords and phrases that required our attention if we wanted to dominate positions 1 to 40 in Google for what we considered important search terms. Naturally, they were all branded, meaning they contained some variation of the company's name. For example:
Fortitude Wealth

Fortitude Wealth financial services

Fortitude Wealth consultation

Fortitude Wealth consulting

Fortitude Wealth contact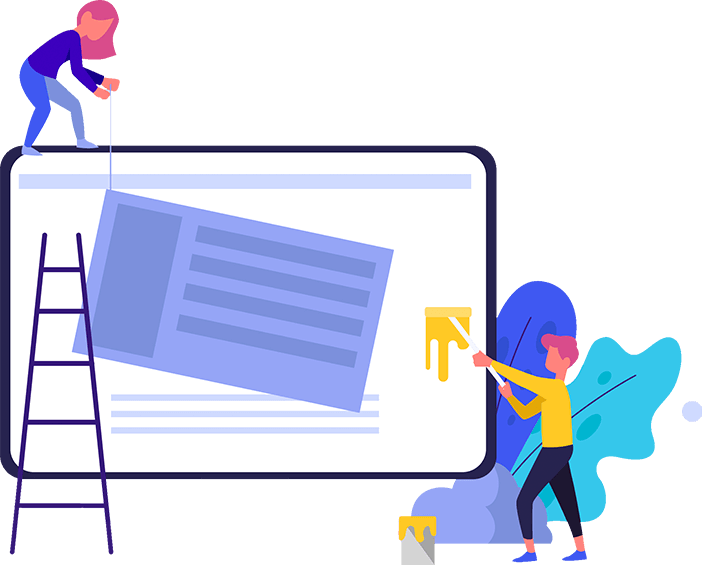 The reason why we ignored keywords like Fortitude Wealth fraud or Fortitude Wealth employee arrest is because if a searcher is determined to find negative content about a certain topic online, he or she will succeed eventually. Buried deep in the Google index, even the most elaborate suppression campaign can't make negative content vanish. We opted to ignore all undesirable links beyond Google page 4 because most people do not move beyond page two, especially when there is high quality positive content to review on the initial pages.
In the worst-case scenario, suppressing content beyond Google page 4 requires you to create and rank 40 new pieces of content per 1 keyword. However, it's usually the case that you get similar search results for similar search terms. And in this very specific case, we were convinced that some pages could rank for almost all search terms simultaneously. We also had already existing pages on Fortitude Wealth 's own web property, social media profiles that we could work with, and some high-quality third-party content that we considered worth optimizing.
What's more, once all the content that we had removed in phase 1 would actually be de-indexed, which can take a while, only 2 undesirable links ranked on Google page 1 and none above position 7. So thankfully there was no need for us to start suppressing from the very top.
In the end, we commissioned one of our strategic partners to write 35 new pieces of content. Some we published as guest posts on high-authority sites. Others we uploaded to Fortitude Wealth 's own blog. 1 was distributed as a press release – you get the idea.
For suppression, the most important factor is that the content you create provides value. Also, it has to be engaging, it has to be long enough in terms of word count, and is has to be search engine optimized. The latter includes:
Adding the most important keywords to the page title tag, <h1> tag and URL

Adding secondary keywords to sub headings

Placing as many keywords as possible somewhere in the content without compromising readability and triggering a spam penalty

Implementing links to authority pages as well as inbound and outbound inner links

Making use of ordered and unordered lists and tables

Adding rich media (images/video)
We also made sure that Fortitude Wealth 's LinkedIn, Facebook and Twitter profile were set up correctly. In addition, we created a brand-new Instagram account, a Tumblr blog and a blog on medium.com. When optimizing social media profiles, another crucial step is to ensure that they stay active. Engaging social media profiles can easily outperform any negative links so we shared all new and improved content on all platforms.
And lastly, we weren't doing SEO if we hadn't placed a bunch of decent backlinks.
Visibility Boost
Before we part, I would like to explain what we did to give Fortitude Wealth an extra visibility boost. The issue was that other companies named very similar to our client's company ranked for some of the branded search terms we optimized for, such as Fortitude Wealth financial advising. We assumed this had something to do with the fact that Google did not associated the keyword Fortitude Wealth with the company itself closely enough.
So we deliberately placed brand mentions literally anywhere we could. We included the name Fortitude Wealth in as many headlines and paragraphs of posts, guest posts, Facebook posts, tweets, our press release etc. On top of that, we used lots of branded anchor text. Long story short: Although Fortitude Wealth 's competitors still show up for branded searches, they are not ranking in the top 10 anymore.