Google Reviews are an integral part of your digital real estate. As an essential aspect on a Google My Business Listing, these testimonials have a strong influence on how you are perceived online. Positive reviews can be leveraged to increase revenue while negative Google reviews have an opposite effect of decreasing your sales as prospective clients are dissuaded from engaging with your brand. In this light, knowledge of how to remove or suppress a negative review online is a key aspect of your online reputation management strategy.
Why are Google Reviews Important?
As the top website for reviews, Google influences consumer decisions more than other business review websites. With zero click searches on the rise, Google reviews and ratings have become a prominent feature on search engine result pages. Zero click searches provide answers to a search query without the user having to leave the search engine result page to click through another website for more information.
These are three possible approaches to deleting a Google Review: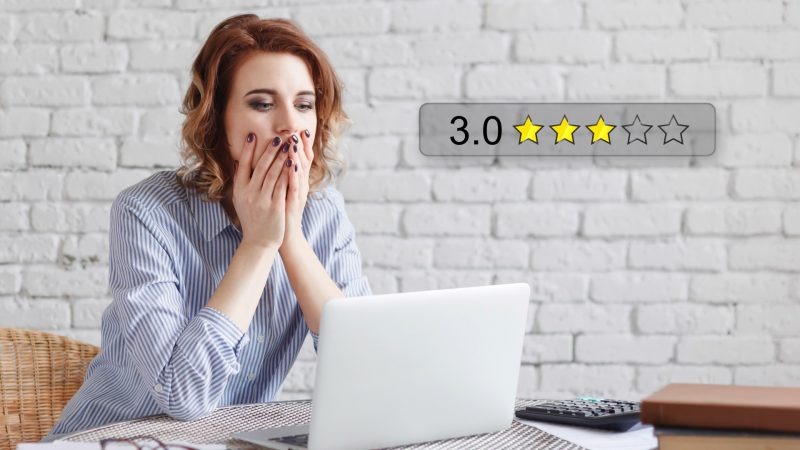 Ask Google to Delete the Review
It is possible to directly contact Google and have them delete a negative online review. The review should be in violation of its policy. These are the steps to follow to flag a review and request to have it deleted.
On a website:
Log in to

Google My Business

page

Select the listing that you are interested in managing. Click on Reviews

Click on the three vertical dots and select the option to report the review

Choose the reason why you want the review flagged as inappropriate and deleted
On phone or tablet:
On My Business app, select customers, then reviews

Click on more, select reviews

Follow the steps to flag the review
On Google Maps:
Open Google Maps and find your business

Locate the review on Google Reviews page

Click on the dots to the right of the review to find the option to report the review

Answer the question, 'What is wrong with this review'

Flag the review
This approach puts all the power in the hands of Google. There is no guarantee that Google will delete the review. Additionally, there isn't a specific timeline when they will act on the review and take it down. 
In order to have the most success with this approach, ask that other people also report the review to get Google to pay attention to it and delete it.
If requests to flag the review for removal prove futile, you can apply for a formal request to have the review taken down. This is a legal process and works if the subject matter is slanderous or defamatory. This is done using Google's Content Removal Tool and each complaint is responded to separately in line with Google's protocol.
Another measure one can take is to contact Google My Business on Twitter profile and DM their customer support with your issue. 
Ask the Author of the Review to Edit the Review or Delete It
As soon as you notice a negative review, open a line of communication using email and give reasons why you want the review edited or deleted. Empathize with the author of the review to assess their frustration at your business. Assure them that the problem will be fixed, then work diligently to rectify it. Once the issue has been resolved, politely ask the author to delete or edit the review. 
Be patient with this approach and do not pressurize the customer to act. 
Suppressing a Negative Online Review
The tactic of choosing to suppress the online review without necessarily deleting it has proven to be a more successful methodology for success as it wields back control into your hands.
The first step when you spot a negative review is to authenticate the review. This involves assessing whether the review is genuine or spammy or fake, as it would be the case of mistaken identity where the review has no relation to your business. It is possible that competitors are using trolls to sabotage your business. There are certain things that you can check for to verify a review. These are initially whether the author of the comment or rating has left reviews elsewhere. The second is whether their profile comes with a photo. The third is to check for records of the buyer actually engaging with your product. If they tick 'no' on all checkboxes, then you are probably dealing with a spam account.  Follow the steps listed above to report it. Once you have certified that the review is genuine, this is what you need to do;
The initial steps in managing a reputation crisis are paramount. In this case, remain calm and get into a proper headspace to prepare you to objectively handle the situation. Do not compound the scenario with negative emotions. Justly, you are feeling upset about the negative things that are being said about your company. However, if you react out of anger, it makes the situation worse by making you seem unprofessional. It might also leave your customers with a bad taste in your mouth at your inability to handle feedback on your product or service. Even if it will temporarily make you feel good, do not react negatively as it will hurt you terribly in the long run.
Moreover, if your listing only had five-star reviews, it would raise skepticism about the authenticity of your product. A negative review is not the end of the world.
Respond with a level head to assess and fix the problem. A record of follow-up on the comments section is sure to boost a positive perception of your brand online as one that prioritizes their customer's needs and grows from feedback. This could influence other disgruntled consumers to change or take down their negative reviews.
Once this problem is surmounted, you can work on boosting your Google rating average. You only need four to five ratings for them to show up on a search engine results page. Google uses the most current ratings. Rally up customers who have positive things to say to leave comments about their satisfaction. A consistent stream of new positive comments is likely to outweigh previous negative comments. Amplify your top-rated review on your website or social media pages which tells customers about your great product. Incorporate a strategy for asking for reviews using feedback forms, SMS and social media channels. If they are satisfied with your product or service, ask them to leave a good online rating.
As tempting as it may seem, do not buy online reviews as they will quickly be flagged by Google's algorithm as spam and deleted. 
Instead, develop a methodology that will help you stay on top of your Google reviews. This can be through the use of tracking software that gives you updates about the ratings on your listing, or by outsourcing reputation management experts to do the work for you. Responding in a timely fashion – preferably within a 24-hour window shows that you are a caring business owner who is vigilant about their customer's concerns. With this strategy you can turn the frowns on your buyers into smiles. 
Wondering How to Remove Negative Content About Your Business Online?
Don't Worry. We Are Here to Help and Guide You in Every Step of the Process.